OUT OF TUNE is a live music game show where people can play on their phone, win cash prizes by guessing the right songs, and watch live performances by guests artists.
Role — Founding Designer, Product Designer, Animator.
The Challenge
My team and I realized a lack of diverse categories in the live game show space people can enjoy. All of the competitors were offering a trivia-knowledge based game. Our initial thought process began by asking ourselves "What if there are different types of live shows people can enjoy?"
Project Overview
My role at Out Of Tune was the founding designer leading all aspects of design of the team, working closely with all product and studio team of 14 members. I was part of the holistic process from ideation, to launch, and overseeing and synching the experience of product, and show content.
When live trivia games were becoming a very popular category, we closely studied multiple live trivia games. It was during that time we analyzed and took a step back to find an insight that there isn't other categories offering live experiences. Therefore we broaden our horizon outside of the trivia format to elaborate on ideas, and understand how each category may make sense and compare to each other.
Live Game Ideation
We had an idea to form a company named FTW Studios where we visioned to become a hub for live participatory experiences. So we explored numerous ideas that are currently unavailable in the space, and during that time we discussed pros and cons of each product and each values it may serve. Also, converse around from a strategic stand point - what it required to execute certain ideas, know their constraints, budget, time, and efforts.
Our Key People — Post Launch
During our initial launch, we've conducted an in-person conversation, and a survey study with our most active players of Out Of Tune. This helped us better understand what motivates our players, and we have heavily iterated on our features, product experience, visuals, and the show content itself. To name a few examples of iterations: Reducing the game session, adding a video chat feature to play with friends, game schedule timing, and the game progress visual.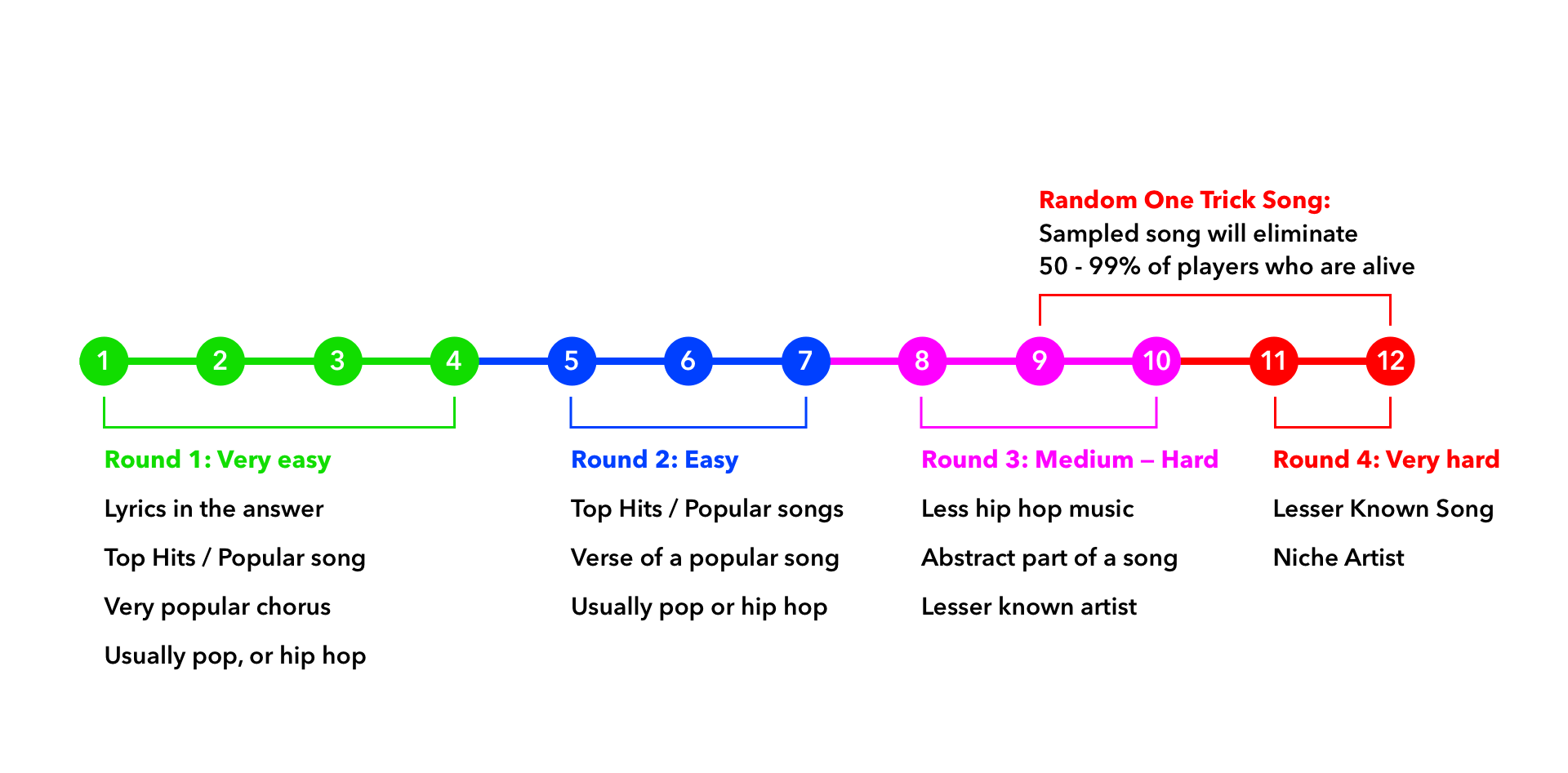 Game Level Design
After brainstorming different game approaches, we have fine-tuned the game structure during our beta test. We decided to create a round-level based system. This let our players easily digest the information when to expect different difficulty, and have breathing room for show banter.
Experience Flow
Out Of Tune consist two different states: When there isn't a game going on, and when a game is playing. During the time there isn't a game, the player can check out next games and what kind of show it will be. The player will also be able to go back to playlists that were played before, and add or play the songs on their Spotify or Apple music. During a game session, a player will go through the progression of the game, and able to play with their friends.
Content and Interface Design
The design of the product and show experience is influenced by the horizontal layout. We decided to design horizontally because we want to focus on the entertainment aspects of the game, such as having a duo host and DJ, having guest performers, and most importantly to show crazy dance moves during each song.
Spatial Layout
The studio was designed and created around the horizontal frame guide to consist four different shots: Wide, side/panning, DJ Close-up, host close-up. We have also designed our own bench at the back of the studio for guests to come in and watch the show. An animating 3D background was specified and mocked up to create depth of the show with the help of Artery Studio for execution.

Game Cards
Game card is a space to show answers, or results. It is placed on the lower-third, on top of the content screen so that the show isn't interrupted.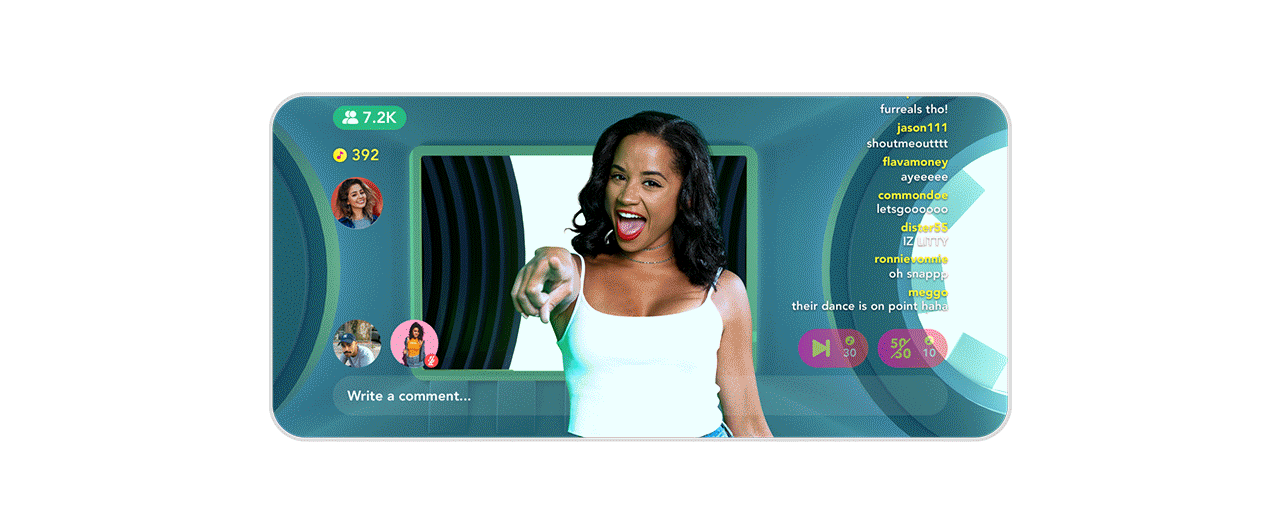 Game Progress States
The player's profile works both as a progress indicator as the progress ring goes around the profile relating to the status of the player. Also as the profile sits in the middle of the screen, the message will stretch across the screen to make the status pronounced. There are three types indicators : Correct, Wrong, and Revived when a player uses an extra life.
Social
Players are able to connect with their friends and see their friends votes. The online indicator acts as a button to show friends activity.
Social Notifiers
Players will know when their friends come online or get an invitation to a Squad to play together.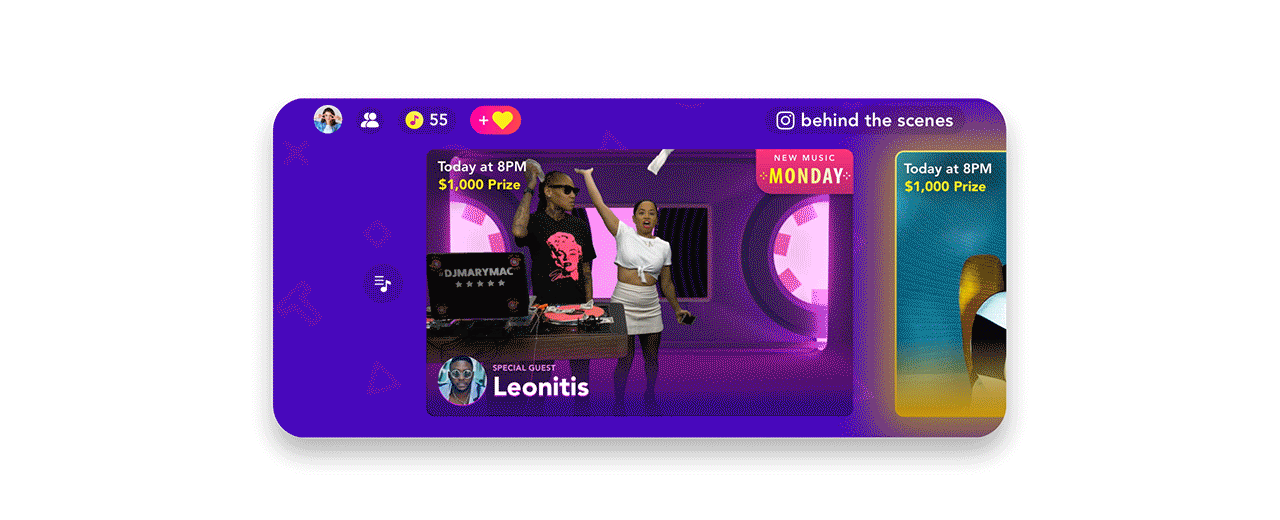 Home Screen
When there isn't a game playing, players will be in the home screen where they can view information about the upcoming games, manage friends, view profile, and more.
Guide
The guide in the home screen shows the show schedule, prize amount, who the host and DJ are, and the theme of the show.
Themes
Music consist a lot of different types of genres people love, so we decided to create themed shows on different days where players are able to see badges in the guide of the home screen.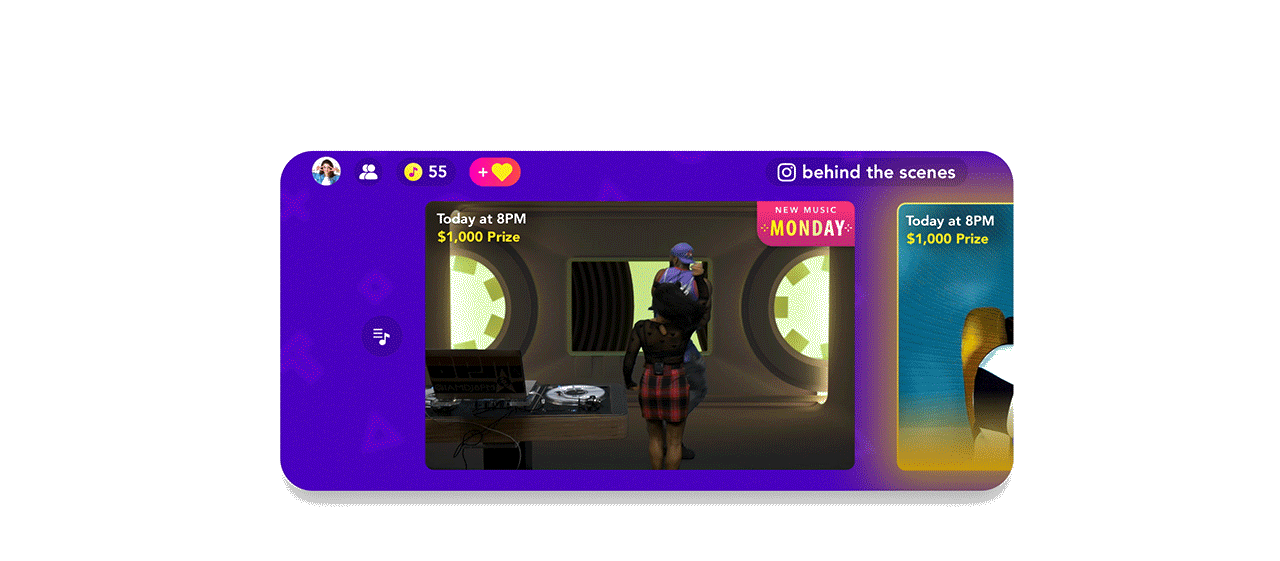 Playlist
Players are able to go back to playlists Out Of Tune has played. From the playlist, players are able to listen and save the tracks directly to their Spotify or Apple Music playlist.
System Design Sheet
A holistic system design sheet was create for Out Of Tune to keep all style guide, and design components in a structurally consistent manner.
Conclusion
We did a great job on creating a highly produced format for our players. It is a unique aspect we have shined strongly letting many players enjoy the exciting production, and well thought-out content of the show. However, we might have lost prioritization at times between the product features, and the show content. We haven't witnessed dramatic organic growth possibly because we emphasized too much time on executing the show content to keep current players happy, rather than exploring more product features to incentivize to play with more friends.
On the other had, I learned a great deal of music, game design, video focused entertainment design on both product and production.